Electrical Walks
2004 —

Electromagnetic Investigations in the City
Work in Progress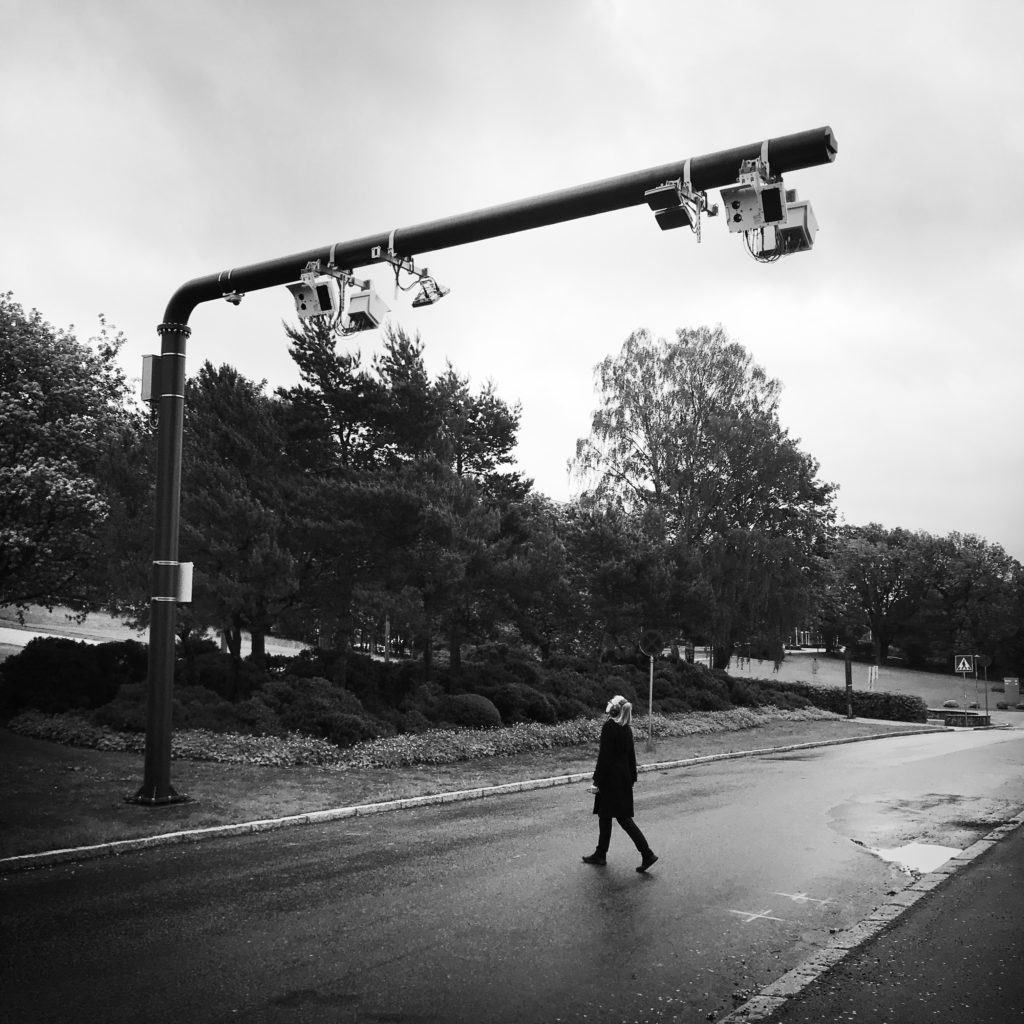 This electricalwalks.org website is the latest development of the electromagnetic sound world discovered by the German sound artist Christina Kubisch. Initiated through conversations between Kubisch and the artistic director of the Ultima Oslo Contemporary Music festival, this website was launched at the opening of 2019 Ultima Festival 2019. With the support of the Goethe-Institut and the Norwegian Arts Council, the electricalwalks.org website has been developed by the Ultima Festival and Christina Kubisch in collaboration with the Berlin webdesign company A & B ants and butterflies.
Since the end of the 1970s, Christina Kubisch has worked with electromagnetic induction, which she developed from a basic technique to an individual artistic tool. In 2003 she started a new series of these works in public space: Electrical Walks. Electrical Walks is a work in progress: a public walk with special, sensitive wireless headphones by which the acoustic qualities of above-ground and subterranean electromagnetic fields become amplified and audible.
The transmission of sound is made by built-in coils which respond to the electromagnetic waves in our environment. The palette of these noises, their timbre and volume, vary from site to site and from country to country. They have one thing in common: they are found everywhere, even in places you would not expect. Lighting systems, wireless communications, radar, anti-theft security devices, surveillance cameras, cellphones, computers, tram cables, antennae, navigation systems, ATMs, Wi-Fi routers, neon signs, public transportation networks, etc, all generate electrical fields – hidden as if under cloaks of invisibility, but with incredible presence.

The sounds are much more varied and musical than you might expect. There are complex layers of high and low frequencies, loops of rhythmic sequences, groups of tiny signals, complex layers of pitches, long drones and many elements which change constantly and are hard to describe. Some sounds are much alike all over the world. Others are specific to a city or country and cannot be found anywhere else.
To go on an Electrical Walk is to an enter into a special kind of investigation. With the magnetic headphones and a map of the environs, with possible routes and especially interesting electrical fields marked, visitors can set off alone or in a group. The perception of everyday reality changes while you're listening to the electromagnetic fields; the everyday appears in a different context. Nothing looks the way it sounds. And nothing sounds the way it looks.

List of Electrical Walks 2004 – 2019

Köln

20.8.2004
Festival "Klangraum-Raumklang" Kunsthochschule für Medien

Oxford

30.4.2005
Festival VENT Ovada Gallery

Berlin

5.6.2005
Ausstellung "Prolog" Akademie der Künste

Karlsruhe

9.10.2005
Ausstellung "Resonanzen" ZKM

Bremen

11.9.2005
Bremen Stadt der Wissenschaften 2005 Neues Museum Weserburg / Galerie zum Steinernen Kreuz

London

18.12.2005
Festival "Her Noise" Goethe Institut

Haarlem

9.4.2006
Festival "toon" 7

Birmingham

1.10.2006
IKON Gallery

London

27.8.2006
Ausstellung Exhibition Road "motiroti/priceless"

Riga

29.9.2006
Festival "Skanu Mezs" Goethe Institut

New York

14.10.2006
Ausstellung "Invisible Geographies" The Kitchen

Oldenburg

15.4.2007
Ausstellung "Sound//Bytes", Edith-Ruß-Haus für Medienkunst

Kortrijk

30.9.2007
Festival Happy Ears

Chicago

20.11.2007
Outer Ear Festival/Goethe Institut

Krakau

25.11.2007
Festival Audio Art/Goethe Institut Bunkier Sztuki

Huddersfield

25.11.2007
Huddersfield Music Festival

Mexico City

16.4. — 20.5.2008
Festival Sonic Clouds Laboratorio de Arte Alameda

Bremen

seit 14.8.2008
Kunsthalle Bremen / art museum of Bremen Sammlung/permanent collection

Montreal

20.9.2008
OBORO/Goethe Institut

Quebec

20.9.2008 Festival Mois Multi/ Meduse

Poitiers

26.10.2008
Ville de Poitier permanent walk

Darmstadt

18.3.2009
INMM/ Akademie für Tonkunst

Mailand

12.5.2009
Palazzo della Triennale Festival InContemporanea

Kopenhagen

19.9.2009
Wundergrund Festival/Goethe Institut

Leeds

29.9.2009
Expo Festival

Recklinghausen

6.6.2010
Kunsthalle Recklinghausen/RUHR2010

Gelsenkirchen

6.6.2010
Kunstmuseum Geksenkirchen/ RUHR.2010

Dorsten

6.6.2010
Jüdisches Museum/ RUHR.2010

Marl

6.6.2010
Skulpturenmuseum Glaskasten/ RUHR 2010 permanent walk

Oberhausen

6.6.2010
RUHR. Visitorcenter/ RUHR 2010

Linz

7.9.2010
Ars Electronica Linz Tabakfabrik

Porto

7.9.2010
Museo de Serralves Trama Festival/

Utrecht

21.10.2010
Impakt Festival

Tallinn

25.9.2011
KUMU, Museum of Modern Art

Turku

23.6.2011
Festival "Turku is listening" music library permanent walk

Nancy

21.7.2011
Goethe Institut Nancy

Dortmund

15.1.2012
Museum am Ostwall im "U" Dortmund permanent walk

Krems an der Donau

16.10.2011
Festival Kontraste

Köln

Festival Visual Sounds

HongKong

30.4. 2012
Run Run Shaw Creative Media Centre

Basel

11.11.2012
Ausstellung Sensing Places Haus für Elektronische Künste permanent walk

Kosice

23.9.2012
Sound City Days project of Košice 2013 — European Capital of Culture

Aarhus

4.10.2012
DIEM, Danish Royal Academy of Music

Athen

16.2.2013
Hertz festival/Goethe Institut Athen

Kortrijk

5.5.2013
Festival van Flaanderen Kortrijk festival and permanent walk

Moskau

8.6.2013
SA)) sound artist festival und Goethe Institut

Bruxelles

30.6.2013
Tuned City Brussels
Botanical Garden/Jardin Botanique

Montpellier

22.6.2014
La Panacée, Centre de culture contemporaine

Oxford

28.2.2014
Audiograft Festival Brookes University

Danzig

29. 6.2014
Sound Play Festival Gdansk Laznia Centre for Contemporary Arts

Wien

13.12. 2014
real deal, festival für postspekulative kultur Kulturzentrum WUK

Hamburg

20.6.2015
blurred edges, Festival für aktuelle Musik Hamburg Hanseplatte

Reykjavik

27.9.2015
Cycle Festival Museum Gerdasafn Kópavogur

Wien

13.10.2015
Transducing the city electromagnetic topographies Ausstellungszentrum Heiligenkreuzerhof / Universität für Angewandte Kunst Wien

Aix-en-Provence

21.11.2015
Mobile Audio Fest Ecole supérieure d'Art

Berlin

29.5.2016
DEMO:POLIS – Dezentrale Musik Akademie der Künste Berlin

Bangkok

3.9.2016
BACC — Bangkok Art and Culture Centre

Lagos

24.6.2016
LAGOS LIVE Festival Goethe Institut Nigeria

Basel

ab Sommer 2016 neue Route im Gelände Dreispitz Haus für Elektronische Künste, Basel (permanente Sammlung)

Ystad

13.11.2016
Trekking in Time Ystads Konstmuseum

Vancouver

9.9. 2016
Festival Destroy Vancouver VIVO Media Arts

Manchester

11. 3. 2017
Cut&Splice festival

Athen

26. 5.2017
documenta 14, listening space

Bordeaux

1.7.2017
Festival Sound &The City

San Francisco

1.1.2018
Soundtracks, SFMOMA

Ekaterinburg

12.11.2017
Ural Industrial Biennal of Contemporary Art

Münster

28. April 2018
CUBA

Lausanne

2.5.2018
Vision Creation New Sound ECAL, Renens

Brno

16. Juni 2018
Festival Exposition of New Music

Berlin

16.9. 2018
Berlinzulage, Künstlerhaus Bethanien

Rome

15.11.2018
Mappe sonore, Kunstraum Goethe, Goethe Institut

Shanghai

9.12.2018
UNArt Center, Pudong

Saarbrücken

12.5.2019
Stadtgalerie Saarbrücken

Amsterdam

3.3. 2019
Sonic Arts Festival

Frankfurt

14.7.2019
Historisches Museum Frankfurt

New York

21. 8.2019
Time Spans Festival

Oslo

13.9.2019
Ultima Festival

Paris

12.12.2019
Gaité lyrique



Guided Walks during Workshops or Special Events:

2015
Zürich, Universität der Künste, university building and surroundings, workshop
Helsinki, Sibelius Hall and City center

2016
Osaka, Grand Front Osaka buildings and central station,
Tokyo, ICC, inside exhibition centre
Stein am Rhein, walk in the city and along the Rhine

2017
Berlin, during Ars Electronica in Berlin, walk in the area of Friedrichstraße

2018
Aschaffenburg, presentation of the CD with Annea Lockwood, organized by "Hörsaal"
Berlin, workshop at "Sound Studies", University of Arts Berlin Berlin, city centre

2019
Berlin, workshop "Sound Studies", University of Arts Berlin, area Warschauer Straße
The commission for the Virtual Walks Oslo and the electricalwalks.org website is supported by the Goethe-Institut and the Arts Council Norway